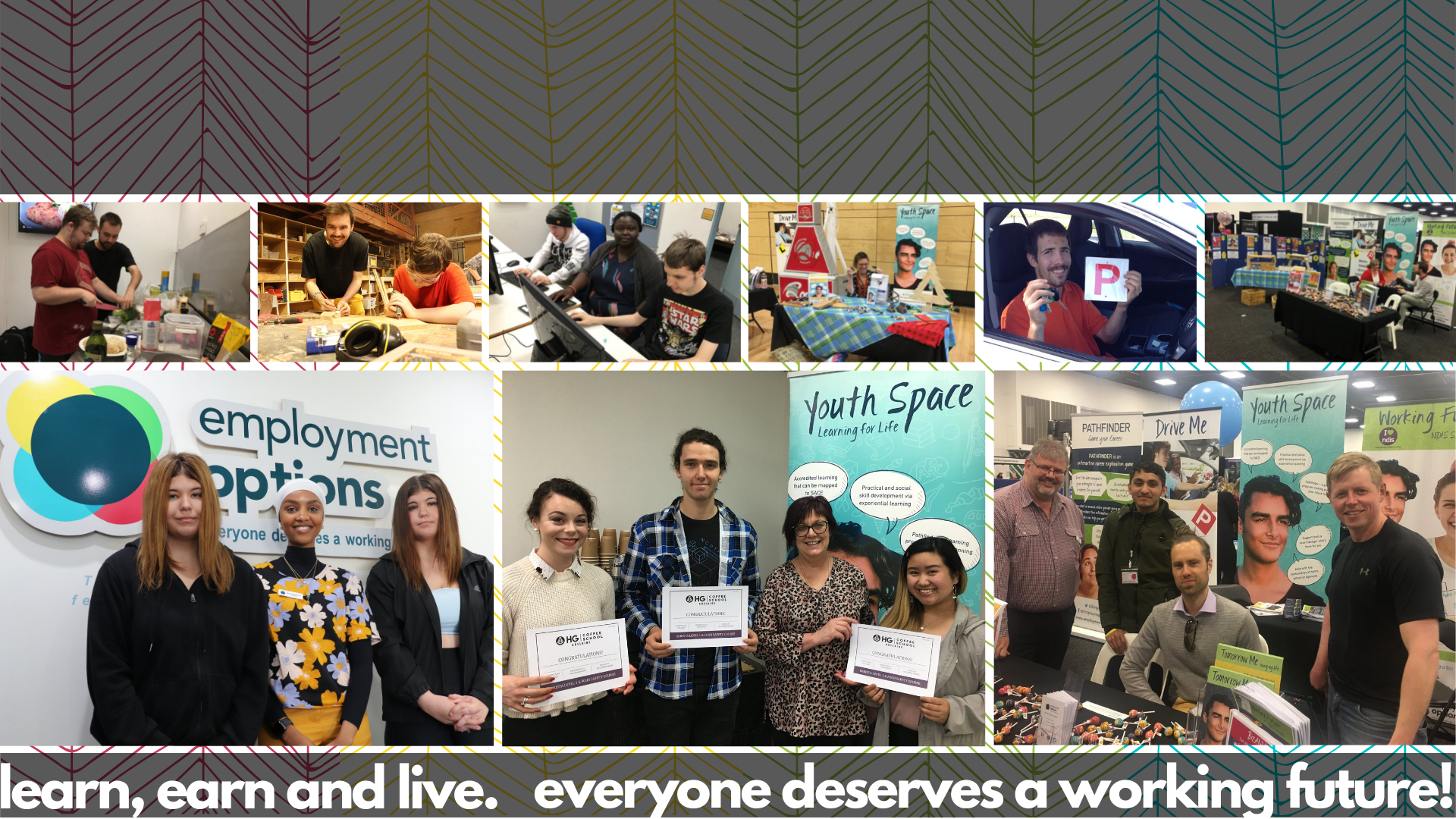 ---
What we do
About Us
Our ability to belong and live with purpose is intrinsically linked to our capacity to learn, earn and live. But with more than one million young Australians currently unemployed, and additional barriers for the more marginalised, some people need greater support than others to fully participate in the workforce.
For more than 30 years, Youth Options has empowered marginalised young people in South Australia to transform their lives and lead a life of purpose.
Being sustainably employed is more challenging for young people who lack adequate resources and support networks. Learning difficulties, disability, mental illness, poverty, substance abuse, absence of positive role models and the influence of generational unemployment or traumas at home can also make it disproportionately harder.
Youth Options help people aged 14 to 30 to build their capacity to set and achieve their goals for a thriving future. We do this by nurturing trusted partnerships to help each person:
overcome their barriers
realise their own potential
safely shift self-limiting beliefs and behaviours, and
access the tools and support they need to explore and shape the future they imagine.
Youth Options is not a contracted employment services provider. We work with young people before they begin applying for jobs to engage them in the future.
From alternative learning centres to signature services such as the entrepreneurial "BizAbility" program, and "Pathfinder" which harnesses the power of gamification, Youth Options has a proud history of helping to create a world where every person can thrive.
Whether we are working with a student struggling to stay in high school, or a young person who hasn't found their place in the workforce for some years, our person-centred approach can help them craft their best life.
With YOUR support, we can continue to make sure every young person in South Australia has a real pathway to an inspired and purposeful life.
 Did you know?
In 2020, Youth Options inspired more than 450 young people with diverse experiences to imagine and plan a pathway to a secure working future.
Our 2021 survey of 274 young people we worked with identified:

82 per cent had at least 5 significant barriers, 66 per cent had at least ten and 40 per cent had more than fifteen.
The most common barriers included disability, mental illness, substance abuse, family dysfunction, and low academic achievement at school.

An estimated 18 per cent of early school leavers remain disengaged from education, training and work their entire adult lives without intervention. (Centre for International Research on Education Systems research).
People living with disability, first Australians, young carers, those from low socio-economic communities and those who did not complete Year 12 are at higher risk of unemployment.
Our Vision
Pathways to living a life of purpose.   
Our Mission
To support diverse young South Australians, transform their lives by developing the confidence and skills to learn, earn and live.
Values: 

Authenticity:
We live and breathe our culture of being genuine and real from our board and our leadership team right through to our service delivery team.
Belonging:
We welcome people in and accept them as part of our community with kindness and empathy. 
Integrity:
We act consistently with the values we uphold.
Learning:
We learn from our clients and each other to produce better outcomes and greater impact.
Unconditional positive regard:
We demonstrate an ongoing belief in a young person's potential to achieve their goal.
Strategic Priorities:   
Focus on client impact.  

 

A holistic and integrated support model.  

 

A youth relevant brand.  

 

Solid foundation.  

 

Active and engaged Board leadership. 

 
Our Passionate Core Belief:
Everyone deserves a working future!
"Together, we help people grow, feel good about themselves and hopeful for the future. – Michelle Braham, CEO"