Smiler Te Ao (Volunteer Workshop Facilitator)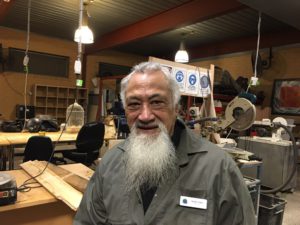 Smiler served 5 years as an apprentice carpenter joiner in New Zealand. He arrived in Australlia in 1969 in Manly NSW, starting work at Sydney's Brookvale Joinery. Smiler then left the Joinery for Domestic/Commercial Work Houses, specializing in Shop Fitouts, Commercial Fitouts Trades, being a supervisor, building inspecting, trainer. Working all around Australia, Smiler has also helped out with mining & engineering projects. He retired from the Training Industry in 2014, working as a safety trainer (with a white card clearance).
Smiler then began volunteering with the National Railway Museum at Port Adelaide as a Carpenter. Whilst there, he heard about the Youth Space service at Port Adelaide and answered an add for an LLN Teacher (Language, Literacy & Numeracy). He then began his mentoring skills for Youth Space's F.L.O. program gig. Smiler has been with Youth Options ever since.